Switching to a semi-automatic stretch wrapper with increased automation can help you with your everyday problems.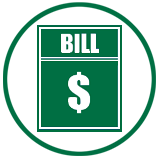 ELIMINATE EXPENSIVE
FREIGHT FINES
Less-than-truckload (LTL) companies collect $1 billion annually in
re-weigh fees.
Only pay what you owe.
Accurate weight from a scale helps calculate correct freight costs.
Avoid overestimating or underestimating weight.

STOP WASTING
EXPENSIVE LABOR
The EZ Weigh wraps and weighs your load at the same time.
You may waste between 30 seconds and 1.5 minutes double handling loads if you're not wrapping and weighing at the same time.
If you're double handling loads from a stretch wrapper to a platform scale, you may be losing $6,500 over the course of five years.

PROTECT YOUR
REPUTATION
Weigh your product as the final step in your quality control process.
Verify the pick list weight against the weight measured from the scale.
Flag any variations from load to load.
Use records of weight to verify product arrived intact without pilferage.
EZ Weigh ™ Integrated Scale on Q-300
The low-profile design uses same footprint as standard Q-300 machine.
The scale is calibrated at our factory before shipment.
The scale indicator connects to computers and printers for easy data collection and labels.
New technology allows operators to use a smart phone app to send and receive scale data via a wireless module to and from the scale indicator.
Piggyback Concept
The EZ Weigh "piggyback rides" on a stretch wrapper. The EZ Weigh requires no additional time, work or space to wrap and weigh at the same time. You can take advantage of this 2-in-1 idea.
What the EZ Weigh Looks Like
The low-profile design uses same footprint as standard Q-300 machine.
What 30 Seconds of Lost Time Looks Like
The average customer loses more than $8,000 over seven years when he moves loads from a stretch wrapper to a separate platform scale.