"Time is Money," Ben Franklin famously said this in 1748 and it's still true.
How much time and money are you wasting?
Our calculator estimates the amount of labor cost you can eliminate from your stretch wrapping process with Simple Automation.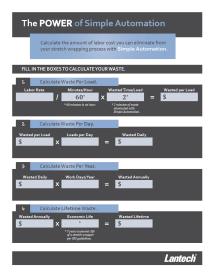 Learn:
What 2 minutes of labor waste is really costing you
How to calculate labor waste per load
The impact of the waste over the lifetime of the stretch wrapper
Fill out the form to the right to download your FREE calculator now! 
Watch this video to see the difference between standard equipment and a semi-automatic stretch wrapper equipped with simple automation.
Download the Calculator Here!