Lan-Ringer® Automatic Stretch Wrapper
For a variety of load shapes and sizes.
The Lan-Ringer® stretch wrapper is Lantech's horizontal style stretch wrapper. The smart design of this heavy duty piece of equipment reduces maintenance, extends the life of the machine, creates a safe environment for the operator, and wraps safe-to-ship loads every time.
Lantech packaging equipment is a notch above the rest. Our automatic stretch wrappers are easy to use, safe and reliable. See all of the advantages to choosing Lantech stretch wrappers including video evidence.


The Lan-Ringer® is useful for a variety of load shapes and sizes, often used in six-sided wrap applications, oddly shaped or long loads, and extremely heavy loads that require high wrap force. Check out our library of videos showcasing different applications. 
Need help choosing the right machine for your application?
Why Choose Lantech Stretch Wrappers
Don't go down because of inadequate equipment. Wrap a safe-to-ship load every time, no matter the speed required or the shape and weight of the load.  
Our machines' simplistic design makes it easy to set up wrap patterns. And the EZ Thread™ Film Delivery System ensures film is loaded correctly every time.
Our best-in-class warranty covers all components and unlimited cycles. Lantech's knowledgeable team of technicians offers support 24/7 to get your machine back up and running fast.
Lantech stretch wrappers are built with safety in mind. There are a variety of safety features that come standard on our equipment to ensure your people are always protected.
There is no match to Lantech technology. Our solution driven equipment, record of patents, and packaging knowledge make us the leaders of the industry for 50 years.
Lan-Ringer® Automatic Stretch Wrapper Models
LR-4000 – 50RPM and 813 mm Max Diagonal Load Size
LR-6000 – 40RPM and 1321 mm Max Diagonal Load Size
LR-7500 – 30RPM and 1702 mm Max Diagonal Load Size
LR-9000 – 25RPM and 2083 mm Max Diagonal Load Size
Custom Built for Heavy Loads That Require High Wrap Force
127 mm thick steel precision bearing
Exclusive dual support roll carriage
Allen Bradley touchscreen
Robust Power-Thru Conveyor system
Lan-Logix state-of-the-art control system
Wrapping Safe-to-Ship Loads
Stretch wrapping has become the standard way to unitize products for shipment. But, just because the load is wrapped and it's shiny, doesn't mean it's ready for the back of a truck. Without proper stretch wrapping, loads can fail during shipment, causing damage to the product and damage to the brand.
It is estimated that ineffective stretch wrapping is responsible for $60 billion of waste each year, just in consumer product goods. Now, more than ever, improving stretch wrapping processes, setting a standard and maintaining it is important in any shipping operation.
Three signs of a safe-to-ship load:
Lan-Ringer® Applications Video Library
Bottled water is one of the most difficult products to unitize securely. We have the answers. Download our guide to effectively wrapping pallets of single-use PET bottles.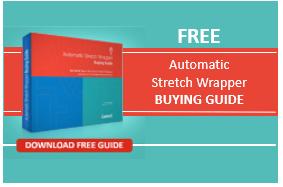 Your guide to understanding the issues and opportunities associated with owning and operating automatic stretch wrappers so you can make informed buying decisions.
Containment force is the critical metric for effective stretch wrapping. It's not something you want to guess about. Lean how much containment force your loads need.