The Rising Cost and Availability of Quality Labor and the Desire to Automate
The lack of available labor continues to be one of the biggest issues for the manufacturing and warehousing industries.  Labor resources for these industries have always been scarce, and in the post-Covid environment, the need to keep workers safe, healthy and distanced has only compounded the issue.
This is especially concerning for businesses that have been experiencing higher demand for their products.  Without quality labor, they are unable to increase production to meet the demand, or get their products out the door fast enough to satisfy their customers.    
Now these industries are also dealing with the problem of job jumping.  Recently coined as "The Great Resignation", this is the threat of losing one's existing labor force to other companies offering more attractive job offers and higher pay, and it's causing turnover rates to skyrocket.  When turnover rates are this high, training new or temporary workers becomes a chore, and may not be administered well, if not at all, leading to poor work quality and possible product damage. These growing trends further contribute to the increase in the overall cost of finding and retaining quality labor.  
So as labor costs continue to rise, more and more companies are turning to automation. In the 2021 Deloitte Global Resilience Study, 57% of manufacturing respondents reported using advanced technologies to redesign job tasks (e.g., automating previously manual tasks).  As a result, these companies are maximizing the value of their people while on the clock by equipping them with better tools to make them more efficient.
But for those companies that have yet to make the switch to automation, questions arise:
"Automation sounds great, but where do I start?"
Many companies in these industries typically target their packaging and shipping processes as the first areas to implement automation, as it's usually the easiest place to start.  These illustrations clearly show how you can reassign your labor pool to more critical areas of your operation by adding the right stretch wrapper or case erector to your packaging line:
"Automation is too expensive. Is it worth the cost?"
Yes!  For example, adding a stretch wrapper with a feature that attaches the film at the start of the wrap cycle and cuts it at the end, saves an average of two minutes per load because drivers don't have to get off their forklifts.                  
Two minutes may not sound like a lot, but for a company wrapping 80 loads a day and paying their employees $15 per hour, those two minutes account for about $10,000* annually (it only costs about $5,000 to add the XT Cut and Clamp to a semi-automatic stretch wrapper). Over a 7-year economic life of the machine, that is a savings of almost $70,000!
*80 loads/day x 2 minutes = 160 minutes/60 = 2.667 hours x $15 = $40 x 250 working days in a year = $10,000
"How quickly can I see an ROI on my equipment investment?"
The ROI on case handling equipment speaks for itself: It costs approximately 7 cents to erect a case by hand, while a machine can erect that same case for only 3 cents. 
If a company erects only 5 cases per minute, that equals 2,400 cases per day and 600,000 cases per year.  By hand-erecting at 7 cents per case, you're spending $42,000 per year in labor.  That same company erecting those boxes with a case erector only spends $18,000 per year in labor, which amounts to $24,000 in annual savings.  This means the case erector pays for itself in a little over a year, and the ROI is quicker for companies erecting more than 5 cases per minute!
In Lantech's 50 years of experience, we've helped numerous customers make the switch from tedious, manual packaging processes to automation enhanced with labor saving options that have saved them time and money.
Reducing Costs Through Automation
Calculate your annual labor savings when switching from hand wrapping to machine stretch wrapping with our Reducing Costs Through Automation Calculator
Automatic Case Savings Calculator
Calculate how much money you could be wasting on hand-erecting boxes with our Automatic Case Calculator Savings Calculator
Lantech stretch wrappers can be enhanced with labor saving options that save you time and money.
These exclusive features are only available on Lantech stretch wrappers.
The XT Cut & Clamp cuts the film at the end of the wrap cycle, then holds the film and attaches it to the next load.
When using the XT Cut & Clamp, your drivers can stay on their forklift as the load is wrapped, giving them the opportunity to do something more productive and return to a load that is ready to be picked up.
If you are weighing your loads on a platform scale, you are wasting 30 seconds to 1.5 minutes of expensive labor when moving a load from the stretch wrapper to the scale.
Wrap and weigh in one easy step! The scale is built into the wrapper, so it requires no additional time, work or space to weigh loads.  abor when moving a load from the stretch wrapper to the scale.abor when moving a load from the stretch wrapper to the scale.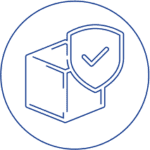 Load Guardian is Lantech's patented control system that intuitively creates, maintains and delivers the right containment force for safe-to-ship loads every time.
Load Guardian eliminates the guesswork that comes when deciding which settings to choose in order to wrap your load safely and efficiently. You can use the preloaded Ready to Wrap profiles or easily create your own based on your load's configuration to wrap even the most difficult of loads at the touch of a button.
Engineered to specifically to reduce film breaks and film pull-outs at the start of the wrap cycle, the Load Seeking Clamp 4.0 reduces both significant sources of downtime.
The Load Seeking Clamp 4.0 moves out to the edge of the load and attaches the film, and also ensures that the film tail is captured with three times the holding force of conventional clamps.  This feature also prevents the "tenting" effect that happens with stationary clamps which reduces the containment force at the bottom of the load.
LINC™ | Lantech Intelligent Network Connection™
When workers are in short supply, you don't have time to babysit your packaging equipment.  But if machine issues go unnoticed for too long, this can lead to performance degradation, downtime and costly production bottlenecks. 
LINC™ , our new data visibility solution, is designed to remotely monitor machine data and performance in real time, from anywhere.  Through LINC's Remote Monitoring System, alerts and alarms can notify the appropriate personnel that your machine requires attention, allowing them to respond to issues in real time, before they become problems. 
Now available in the US on all new L-Series™ Automatic Stretch Wrapping Equipment!
Great Machine Solutions to Help You Save On Labor Costs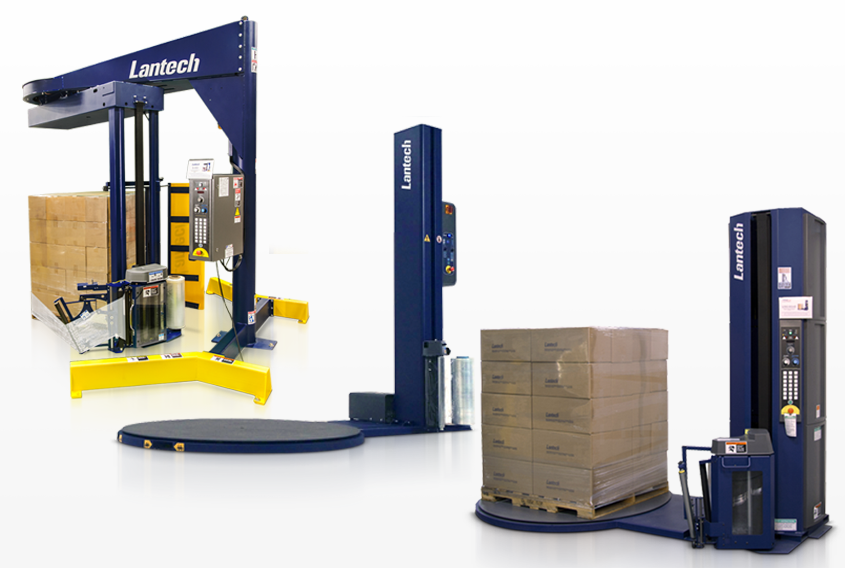 Semi-Automatic Stretch Wrappers
Wrap up to 40 loads per hour. Increase productivity with our easy-to-use wrappers.  Save additional time and money with our labor saving options.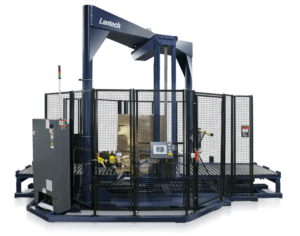 Automatic Stretch Wrappers
Wrap up to 180 loads per hour. Perfect for high-volume shipping needs, our fully automated systems can be customized to fit any application.  
Case Erectors and Sealers
Our full line of case handling equipment reduces the amount of labor needed to erect and seal cases, making physical distancing easier, while keeping up with capacity needs. 
When choosing case handling automation to overcome labor challenges, combining the Multi Format Case Erector and High Speed Random Case Sealer is a perfect solution.
Multi Format Case Erector
The Multi Format Case Erector eliminates the need for operator involvement when different case sizes are needed, allowing your workers to stay on more important tasks.
High Speed Random Case Sealer
No operator required!  The High Speed Random Case Sealer performs its own self-adjustment for a wide variety of case sizes and styles, giving you the flexibility you need to meet demand.