What is LeanWrap?
This is our brand name for the new technologies and innovations we develop that are entirely focused on maximizing productivity and performance, while delivering safe-to-ship loads.
LeanWrap® Technology is the fusion of two powerful forces:
What we know and continue to research in the world of stretch wrapping.
How we think and continue to grow in the world of Lean.
Exclusive LeanWrap innovations: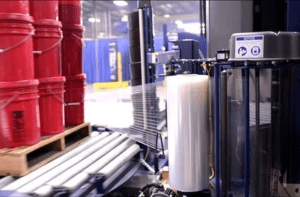 Metered Film Delivery® – The latest advancement in film delivery system technology. Metered Film Delivery significantly reduces film breaks, load twisting, and load crushing. It also delivers significantly more film tension per revolution of film enabling our customers to maintain their current containment force at a lower film cost or increase their Containment Force while maintaining current film cost.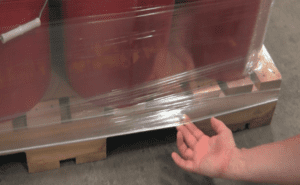 Pallet Grip® – Sudden stops, starts or vibrations can cause loads to slide off their pallets during transit. In fact, 20 million loads slide off their pallet each year, resulting in $6 billion of damaged, unsaleable products. Protect your products by locking the load to the pallet with Pallet Grip. The roll up and drive down features avoid forks and creates a strong holding force at the base of the load.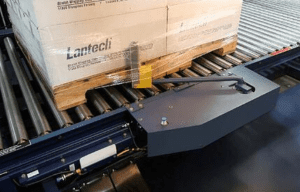 Load Seeking Clamp® 4.0 – A film clamp engineered specifically to reduce film breaks or film pull-outs at the start of the cycle, both significant sources of downtime. The clamp moves out to the edge of the load at the beginning of the wrap cycle to attach the film. It ensures the leading film tail is captured and has three times the holding force of conventional clamps. Because the Load Seeking Clamp moves out to the load, it prevents the "tenting" effect that happens with stationary clamps which reduces Containment Force at the bottom of the load.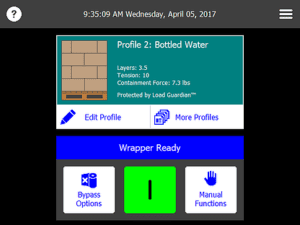 Load Guardian – Intelligent wrap setup is finally here. Load Guardian dramatically reduces operator skill needed to effectively stretch wrap loads. Instead of having to make as many as 12 difficult setup choices, the operator merely enters the load characteristics on an intuitive touch screen and Load Guardian determines the settings for a safe-to-ship load. If operators can use an app on a smartphone, they can use Load Guardian.
LeanWrap® is more than a series of machine features. It is a philosophy based on going to the place where the work is done and getting a first-hand understanding of the problems confronting our customers, and finding solutions. It is the cornerstone of how we create value for our customers.
The right amount of Containment Force, everywhere on the load, is the primary indicator of a safe-to-ship load.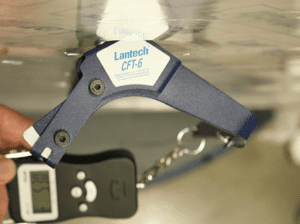 Make sure you periodically check your loads to determine if they fall within the guidelines. Use Lantech's Containment Force Recommendation Chart to find the right value and the CFT-6 tool to measure.
Containment Force Tool™ 6, commonly known as the CFT-6, is our patented tool used to measure Containment Force. It provides fast, consistent, and nondestructive measurements of containment force on pallet loads. Order yours today!
LeanWrap® technology is only available on Lantech stretch wrappers.
LeanWrap® technology is available on Lantech's high performance stretch wrappers. Lantech offers a variety of machines to choose from, capable of wrapping up to 180 loads per hour. Maximize productivity, steady film costs and wrap safe-to-ship loads every time.