Wrapping is Simple
The purpose of a stretch wrapper is simple – unitizing a load to prepare it for shipment. At its simplest, a stretch wrapper applies stretch film to a pallet load of product. Some machines rotate the load on a turntable while others have an arm that rotates around the load. But getting the right amount of film with the right amount of tension, what we call containment force, everywhere on the load is more complicated than it often seems.
But it's Complicated
The outcome is critical, though – if you don't get the right amount of containment force everywhere on the load, the time and expense of wrapping could be wasted. Loads that are ineffectively stretch wrapped have unnecessary risks of falling apart during shipment. So we encourage companies to find the right machine that for their application. And there are lots of choices!
Here are two basic types of stretch wrappers:
1. Turntable Wrapper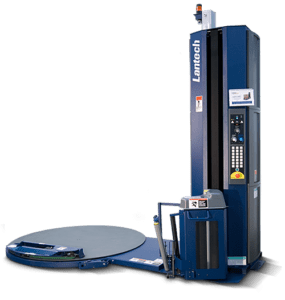 These rotate the pallet while the film moves
up and down the mast.
2. Straddle Wrapper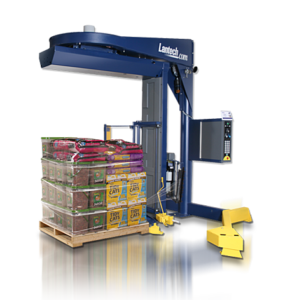 These rotate the film around
a stationary pallet.
To help find the right machine for you, here are a few things to consider:
Size of Load
Length, width & height of your loads all impact what machine you need. Height is one of the most common considerations we see. Standard wrappers handle loads up to 80″ tall. But some stretch wrappers have options to wrap loads up to 140″ tall. Turntables start at 65″ in diameter (which encompass standard 40″ x 48″ pallets within its perimeter – a huge safety factor) and go up to 96″ in diameter to handle larger loads.
Stability & Weight of Load
If loads are really heavy, light, or unstable, it makes more sense to keep the load stationary and rotate the stretch film around it. These machines are called straddle wrappers. Most pallets, however, are wrapped on turntable machines which rotate the pallet while the film is applied. Turntable and straddle wrappers come in various sizes to accommodate different sizes of load perimeters.
Forklifts vs. Pallet Jacks
If you have to load the machine with a pallet jack, then you could use a straddle type stretch wrapper that will keep the load on the floor, or add a ramp to a turntable machine.
Speed
In practice, most semi-automatic machines can handle up to 30-40 loads/hour. That's a guideline, and it assumes consistent flow. So it's important to consider surge periods when choosing your wrapper. There are options available to increase throughput speed.
Savings & Results
Both types of machines provide the same consistent containment force, comparable film cost reductions and free warehouse staff from the time consuming and tedious job of hand wrapping. These benefits are often a big factor for companies considering their first wrapper.
We've got details on savings and justification on our budget and business outcomes pages.
Options to Take You Further
Once you've chosen the type of stretch wrapper, it's time to consider various options to reduce the burden on your warehouse team. By cutting and clamping the film automatically, for instance, you can save them from having to get on and off their forklift and the bending and twisting it takes to attach and cut the film. Using these tools reduce wasted labor and opportunities for injury.
And if you weigh your loads, you can build a scale into the wrapper to save space and reduce extra time consuming steps.
Where and How We Build Lantech Machines
All our stretch wrappers are built in our LEAN factory in Louisville, KY. Each machine is built to order. Lead time is about 2 weeks. Often our distribution partners keep some standard machines available for immediate delivery.
And our quality is covered by an amazing warranty. Our turntable semi-automatic machines, for instance, have a 5 year unlimited cycles warranty on all components.
If you're a details oriented person you're probably looking for the nuts and bolts information by now. We understand. You'll find that here.
And if you want to compare all our machines side by side you can do that here.
Want to learn more about how to select the best wrapper for your requirements?  Download our free guide.