S Automatic Stretch Wrapping Equipment
Lantech's S Automatic stretch wrappers are equipped to handle medium to high volume applications, up to 100 loads per hour, and come standard with a variety of safety features. The wrap arm makes this machine perfect for light or unstable loads.
Lantech packaging equipment is a notch above the rest. Our automatic stretch wrappers are easy to use, safe and reliable. See all of the advantages to choosing Lantech stretch wrappers including video evidence.
The SL Automatic comes equipped with Lantech's patented LeanWrap® features. These features are designed to maximize productivity and performance, while delivering safe-to-ship loads.


Need help choosing the right machine for your application?
Why Choose Lantech Stretch Wrappers
Don't go down because of inadequate equipment. Wrap a safe-to-ship load every time, no matter the speed required or the shape and weight of the load.  
Our machines' simplistic design makes it easy to set up wrap patterns. And the EZ Thread™ Film Delivery System ensures film is loaded correctly every time.
Our best-in-class warranty covers all components and unlimited cycles. Lantech's knowledgeable team of technicians offers support 24/7 to get your machine back up and running fast.
Lantech stretch wrappers are built with safety in mind. There are a variety of safety features that come standard on our equipment to ensure your people are always protected.
There is no match to Lantech technology. Our solution driven equipment, record of patents, and packaging knowledge make us the leaders of the industry for 50 years.
LINC®️ | Lantech Intelligent Network Connection™
LINC®️ is now available as an option on all new L-Series Automatic machines.
LINC allows subscribers to monitor machine data and performance in real time, from anywhere. It provides actionable intelligence and advanced analytics to support maintaining and improving system uptime, productivity, load quality, and cost, allowing customers to react to issues before they become problems.
LINC®️ allows you to:
S Automatic Stretch Wrapper Models
SL Automatic with LeanWrap®
The SL Automatic and SL Automatic High Speed Stretch Wrappers come equipped with Lantech's patented LeanWrap® features including: Pallet Grip®, Load Guardian, Metered Film Delivery® System and Load Seeking Clamp® 4.0.
The S Automatic and S Automatic High Speed Stretch Wrappers are our legacy straddle stretch wrappers. They come standard with fencing and a other safety features, as well as Pallet Grip®. The machines can be customized with options to fit any application.
The ARC - Auto Roll Change Option
Eliminate machines stops after film breaks and roll exhaustion with the ARC!
The ARC option reduces film breaks and roll changes, minimizing operator interaction and costly downtime.
A carousel holds three rolls of film and threads it to the film delivery system. When the wrapper senses the film roll has less than one wrapped load of film left, or a film break is sensed, the roll change cycle in initiated.  A new film roll is lowered into position to engage the clamp and leading edge of the film. The next wrap cycle then starts automatically.
The ARC provides separate access gates that permit loading while the wrapper is in fully automatic operation.
Metered Film Delivery® System
Wrap loads tighter with less film.
Pallet Grip®
Reduce product damage by locking the load to the pallet with a film cable.
Load Guardian
The patented control system that creates, maintains and delivers safe to ship loads.
Load Seeking Clamp® 4.0
Reduce film breaks and costly downtime.
This is our brand name for the new technologies and innovations we develop that are entirely focused on maximizing productivity and performance, while delivering safe-to-ship loads.
LeanWrap® Technology is the fusion of two powerful forces:
What we know and continue to research in the world of stretch wrapping.
How we think and continue to grow in the world of Lean.
Wrapping Safe-to-Ship Loads
Stretch wrapping has become the standard way to unitize products for shipment. But, just because the load is wrapped and it's shiny, doesn't mean it's ready for the back of a truck. Without proper stretch wrapping, loads can fail during shipment, causing damage to the product and damage to the brand.
It is estimated that ineffective stretch wrapping is responsible for $60 billion of waste each year, just in consumer product goods. Now, more than ever, improving stretch wrapping processes, setting a standard and maintaining it is important in any shipping operation.
Three signs of a safe-to-ship load:
Bottled water is one of the most difficult products to unitize securely. We have the answers. Download our guide to effectively wrapping pallets of single-use PET bottles.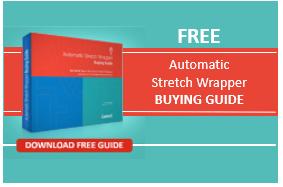 Your guide to understanding the issues and opportunities associated with owning and operating automatic stretch wrappers so you can make informed buying decisions.
Containment force is the critical metric for effective stretch wrapping. It's not something you want to guess about. Lean how much containment force your loads need.